Dr. Leonard W. DeWitt - Senior Pastor
Email: leonardvjf@gmail.com
He was born in the Province of Alberta, in Western Canada. Attended Mt. View Bible College, now known as Rocky Mt. College, graduated with a Bachelor of Sacred Literature and after received a Doctor of Divinity degree from Azusa Pacific. In the 1960's he pastored churches in Yakima and Wapato, Washington. In 1971 he was called to pastor Ventura Missionary Church, where he served for 10 years, then elected President of the Missionary Church denomination, in Ft. Wayne, Indiana, serving in that capacity for 6 years. Pastor DeWitt rejoined Ventura Missionary church I n 1987 and served for 15 more years as their Senior Pastor. After a brief retirement, he was called to develop a Senior Adult Ministry at Ventura Baptist Church and served there for 7 years.
In 2017 he established Ventura Jubilee Fellowship, affiliated with the Missionary Church, Inc. He is the author of two books, "Jehovah Jireh is His Name" and "Learning to Live". He is married to Joyce and has two adult children, Pamela and Sheldon, 4 grandchildren, and one great-granddaughter.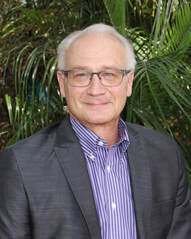 Mike Sherrow - Worship Pastor
Email: msherrow@juno.com
He was born in Winchester, Indiana; graduated from Fort Wayne Bible College with a Bachelor of Music Education degree in May of 1972. Taught music for 3 years in the Fort Wayne public schools there and in Lynn, Indiana. Served in full-time church ministry at Lakeview Church in Zion, Illinois for 13 years. In July of 1989, he was called to serve at  Ventura Missionary Church, where he remained for 25 years. After a brief retirement, he was offered a position with the newly formed Ventura Jubilee Fellowship, where he remains at present. He is married to Sue, and they have 3 adult children, Sally, Luke and Jordan, and 2 grandchildren.
Joan Parks and Karen Fetter
These two women love serving the Lord and handle all administrative duties, functions, and events for the church. They can be reached by phoning the church office or by email.
Joan Parks - joanpvjf@gmail.com Monday & Tuesday
Karen Fetter - karenvjf@gmail.com Wednesday & Thursday
Office Hours 9 AM - 3 PM - Closed on Fridays
Office Telephone  805-535-4325